Pollack Peacebuilding Systems provides conflict resolution services for a variety of entities, from companies and organizations to individuals and community groups. With a focus on relationship mediation and culture transformation, PPS concentrates on enhancing communication processes and empowering parties to change in ways that truly transform relational dynamics.
Mediation Services Help Create Win-Win Solutions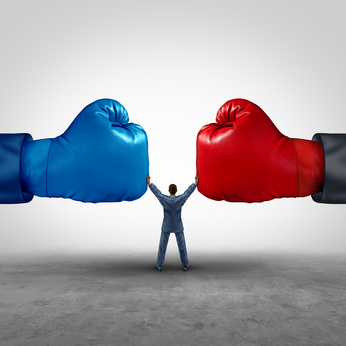 Disputes between individuals or groups are often looked at as "zero-sum" conflicts, wherein for one party to win, the other must lose. Typically, both parties believe the resolution to either be a winner-take-all scenario or a dissatisfying compromise. This leads to resolution resistance and ongoing problems. Facilitated, integrated mediation services, on the other hand, are based on the assumption that a Win-Win solution exists, if only we can be creative and collaborative enough to discover it. Often therefore, mediation services result in much more fulfilling outcomes than alternative methods, and skilled mediators regularly help transform relationships for the better. At PPS, we provide mediation services to help optimize interpersonal relationships, facilitate integrated negotiations within and between organizations, and mediate conflicts between communities of various identities and ideologies.
Next Steps...
Get in touch with Pollack Peacebuilding Systems today to discover how mediation or conflict mangement services can solve your dispute and/or improve your relationships.
Various Types of Mediation Services
One of the biggest issues with employing the right mediation service is finding a good fit. The right mediator must of course remain neutral, feel safe, have expertise in communication skills, and possess the ability to help all parties clarify their needs and interests in a way that makes resolution possible. That's why reviewing and interviewing mediation companies prior to signing on is extremely important. Below are some potential reasons why you might be seeking mediation services.
The Benefits of Proper Mediation Services
We all seek out mediation services for the same reasons: we need a path for clear, safe communication to help us resolve a conflict in a way that works for all parties involved. Even if the outcome is not what we initially had in mind, at least some agreeable solution should provide relief and a path for transformation. The benefits of hiring a professional mediation service through Pollack Peacebuilding include:
Convenience: Setting up time for a mediation service, especially when dealing with multiple parties, can be tough. That's why it's helpful to employ a professional mediation services firm that can assist with getting all parties to the table at a time that works for everyone.
Progress: Whether it's the outcome you were hoping for or there's no agreement reached, you came to the conclusion in a safe, non-conflicting atmosphere, which saves you time, money, and stress. When you make progress or come to a determination with a mediation service, it also helps carve a path for the future. You know a bit more about yourself when you leave, about the other party, and the paths that you intend to walk in the future.
Confidentiality: Your information is kept under lock and key. Everything that is said in a mediation session is kept completely confidential, so you can rest assured that nothing that was said will come back to haunt you later.
Family Mediation Services
There is no time more pressing than when families are struggling to get along. Emotion run high, and ongoing interactions only seem to worsen the situation. Family mediation services are a great solution, especially when you look at how family issues can erupt and lead to lasting conflict. Whether it's in your family, or that of a friend, everyone can relate to at least one tale of families butting heads when it matters most.
Some examples of why you may need family services for mediation include the following:
Estate Dispute – We all lose loved ones, and most of them have divvied up their life's work and savings to a small group within the family. It's always a cause for heated debate, and it's rarely a good time for the family. Under these circumstances, expressing your concerns and desires through a mediator can be extremely beneficial. Not only does it more easily resolve the issues at hand, but it can preserve family relationships that might otherwise be severed.
Divorces – A divorce causes another heated debate among any family. It's always messy when you're determining custody and other issues. A very popular trend among couples that are divorcing—when they have children—is to discuss terms to avoid court when separating. Co-parenting has become one of the best ways that couples are settling their differences, and they keep it civil with a mediation service.
Community Mediation Services
Have you ever had a dispute with a neighbor, or someone else in the neighborhood that you just can't bring to small claims court, but you want to get it taken care of? All of us run into problems with neighbors once or twice. You could be living next door to one another for a long time, so it's best to handle these issues in a civil manner.
Neighbors and Yards – One thing that's a hot button topic is when your neighbor has their tree trimmings and leaves falling leaves into your yard. Nobody wants that to happen. They seek out community mediation services to counteract this without it becoming a big issue.
Parking Issues – If your neighbor is parking outside of your house, or blocking your driveway and making it difficult for friends and family to park when visiting, you may want to visit a community mediator to dispute this issue. It can lead to a happy solution for everyone involved.
Relationship Mediation Services
For the fine lines, the cracks between everything else that we've listed here, you can look to relationship mediation services. If you're having a dispute with your parents or your sibling, or even your best friend, it's often difficult to discuss the things that you want to discuss in a clear manner. You don't quite need a therapist or family counsellor, because it's a one-off issue. You need a relationship mediation.
Best Friends and Money – We've all borrowed money from friends at one time or another. Maybe you're on the receiving end, and you want your money back, but you would never take your friend to court. Utilizing relationship mediation services can offer peace of mind.
Siblings – We're not always on our best behavior, and sibling rivalry can carry on into adulthood. You may butt heads with your dear brother or sister, but if you're looking at not damaging your relationship over a larger issue, you may want to seek out a mediator that specializes in family services.
The Right Mediation Service for You
No matter what your need, Pollack Peacebuilding is here to help every step of the way. Mediation can be crucial to retain relationships and come to peaceful solutions, especially if we find a mutually satisfying agreement. Your relationships and agreements matter; let us help you help find the arrangements that work.